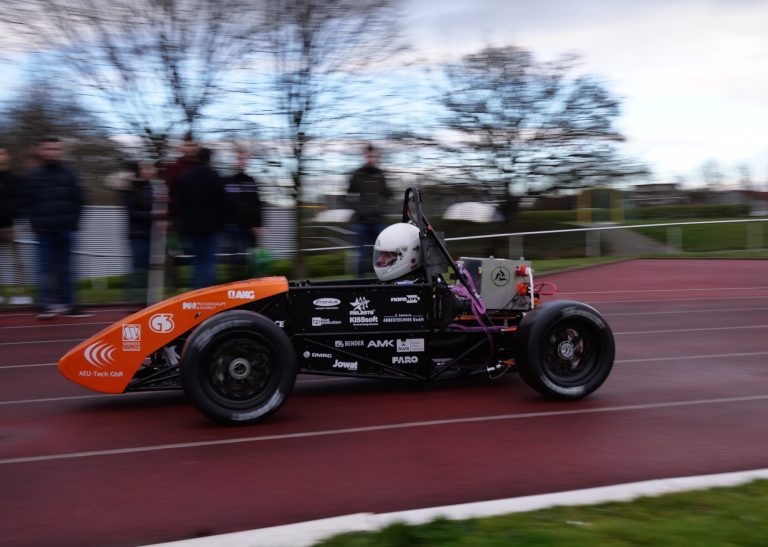 - Individual wheel hub motors on the rear axle
- Lithium-polymer accumulator with 7.67 kWh
- Self-built Accumulator Management System
- Planetary gear for each wheel hub motor
- 3D-printed cooling jacket for the wheel hub motors
- Inverters, motor controllers and motors from the company AMK
- dSPACE Microautobox II as the central control unit
- Driving dynamics control for optimum torque distribution
The PX212E is the first electric racing car in the team's history. As the name might suggest, this is not an entirely new vehicle. To save costs and time, the combustion engine and related parts of the drive train were removed from the old PX212C. It was upgraded with a new wiring harness, new circuit boards, a new control unit and - of course - a new electric drive.
The goal of the PX212E was not a racing car that conformed to the rules, but a roadworthy test platform. This could be used to test the novel concepts of the hardware and software components. Although the team has a wealth of experience in the areas of chassis, suspension and aerodynamics, the electric drive presented a major challenge. Up to now, they had been working with operating voltages of less than 24 volts. The voltage level of the HV battery is now up to 600 volts. This circumstance in particular called for a complex safety system that reliably protects the driver and the vehicle.
On 15 February, the PX212E recorded its successful maiden voyage.